The total Corporate Social Responsibility (CSR) expenditure by the top 500 companies in the country fell by more than 4 per cent between FY 19-20 and FY 20-21. Data produced by the Ministry of Corporate Affairs in the Parliament on December 12 showed Delhi, Punjab, Chandigarh were some of the states that witnessed the highest fall.
While for the majority of the states, the CSR expenditure has been on a downward trend, only nine states in India — which include Gujarat, Himachal Pradesh, Uttar Pradesh, Madhya Pradesh — managed to get more CSR funding, and the expenditure rose for these states.
Many corporate advisors, company leaders and corporate lawyers suggest that the major reason behind the falling CSR expenditure is the fall in revenue generation and profitability of the companies during the Covid-19.
"As lately faced, the Covid pandemic had been one of the major reasons for the funding going down in other social development areas apart from healthcare. The diversion of funds can be largely seen in the community healthcare sector resulting in a drastic fall of funds availability for areas such as environment, education and other CSR projects during the pandemic," said Radhika Arora, Head- CSR, CHRO, Admin and HSE at Jackson Group, a diesel generator, and energy company in India.
Many industrialists pointed out that in the last two years, most of them have been more inclined towards meeting the urgent requirements raised by the nationwide fight against Covid-19. The pandemic has resulted in companies having to focus on core operations, cost cutting, or needing to direct funds to more pressing needs such as employee salaries.
"The slowdown in the economy could also have directed funds away from CSR initiatives as companies have had to prioritize capital spending. Additionally, some companies may be more focused on direct charity initiatives such as cash donations," added Pranav Dwivedi, Government Advisor, Policy Consultant and Researcher, who has worked extensively on CSR projects.
From a legal perspective too, there are a few reasons leading to the fall in the CSR expenditure by the companies. Dr Mritunjay Kumar, Assistant Professor, Himachal Pradesh National Law University, Shimla who has worked on several CSR projects asserted that many private companies are not interested in spending money for the public cause, since they are interested in maximizing the profits, hence they dilute the fund by transferring it in their own trusts.
"The ambit of Article 21 has been expanded over the years through judicial interpretation and CSR activities and is being taken up by the companies to secure rights under this article. Even the Companies Act, 2013 has provisions under section 135 that make CSR mandatory for certain companies," stated Satya Muley, Advocate specializing in corporate law, Bombay High Court and Founder, Satya Muley& Co.
Experts pointed out that one of the major reasons some states like Gujarat continue to receive good CSR funds is that some of the major industrialists of the country have their hometowns in such states.
"Some of the states have received better funds because there is a tendency that often the donor companies tend to allocate more funds to their hometowns or in the nearby areas of the company headquarters. It is also a trend in major corporate with promoters at the helm, to invest in their home states or states which have polity-policy beneficial outcomes " added Srinath Sridharan, senior corporate leader, advisor, and independent markets commentator.
A few experts also stressed the fact that it is mandated by the law that the company shall give preference to local area in spending the money to fulfill the Corporate Social Responsibility and thus some states tend to receive better funds. This could be considered the cause for states like Jharkhand, and Chhattisgarh.
On the other hand, in MP, the state has recently announced to contribute close to USD 550 billion to the country's economy by 2026, which comes with setting up over 100 industrial corridors, 7 smart cities, and a robust multimodal transportation system.
"These states have also established dedicated departments to ensure that CSR activities are efficiently monitored and regulated. Another factor could be their larger pool of businesses and industries, thereby resulting in innovative and varied CSR projects in different sectors. This could have attracted government funding and initiatives from philanthropic organizations as well," said Dwivedi.
Through CSR, companies contribute towards education, gender equality, employment, and a healthy environment which facilitates the aim of Article 21 of the Indian Constitution – "The right to Life and personal liberty".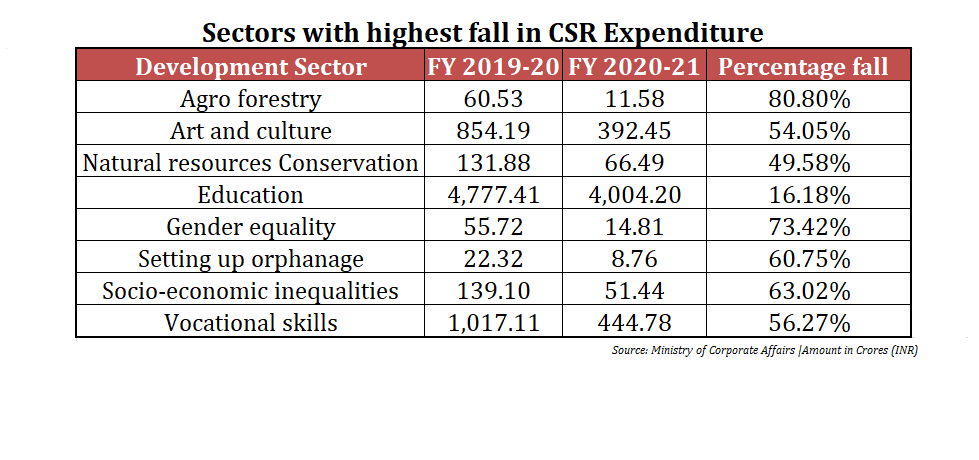 Education, environmental projects, orphanage, and senior citizen welfare are projects that require significant financial expenditure and have been a major area of contribution for many CSR projects, yet these sectors also witnessed a considerable fall in expenditure.
"Sustainability or SDG can't be just achieved through CSR. It needs a change in the mindset and also in the overall infrastructure. Unless you built it as a part of the entire organizational strategy, it can't be achieved. Then companies can continue doing things affecting the environment and then just donate some money to CSR," said Srinath Sridharan. 

#Corporate #Social #Responsibility #decline #top #Indian #companies #CSR #expenditure